Whalebone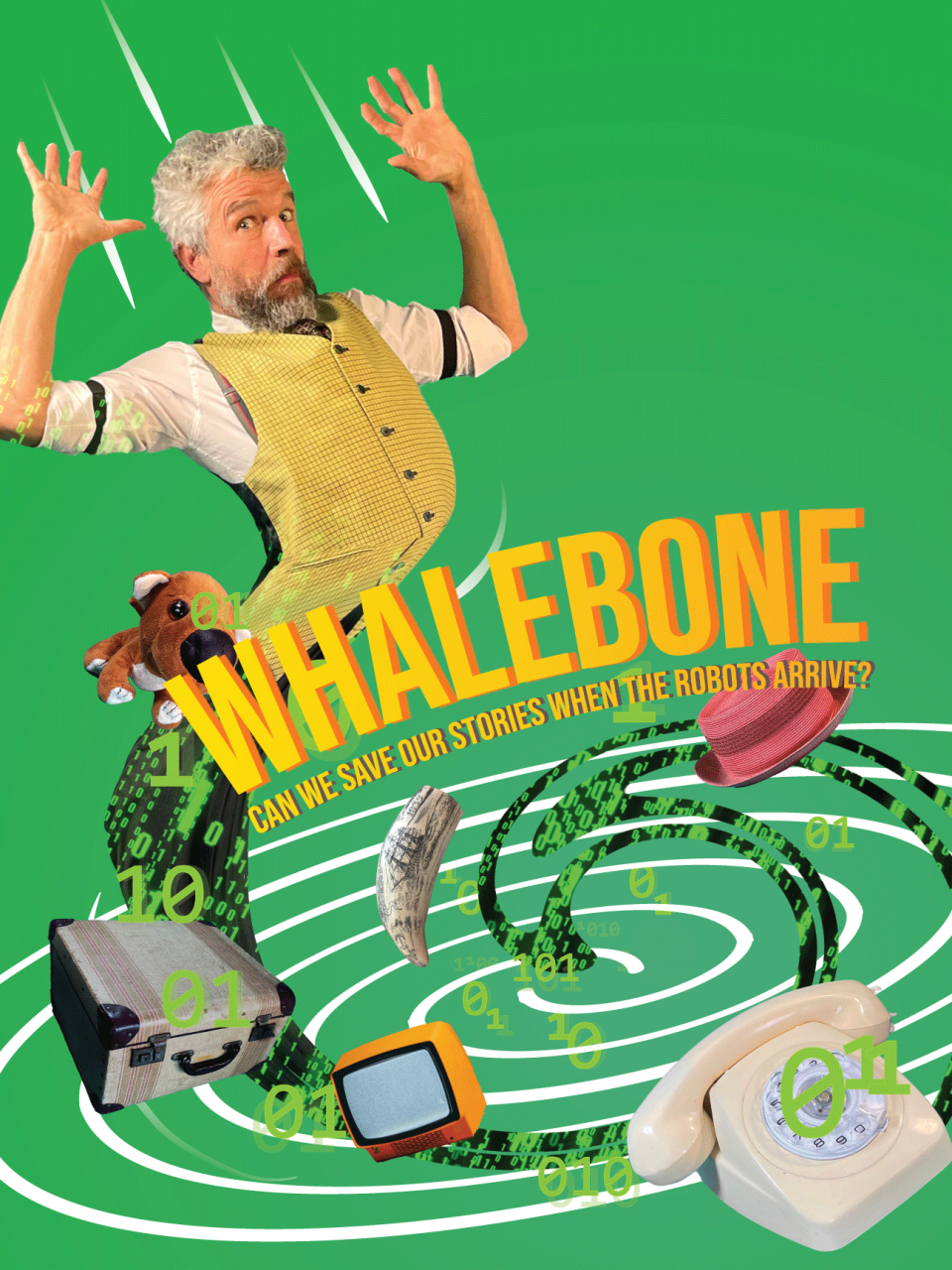 This event has past
3 Apr 2023 — 14 Apr 2023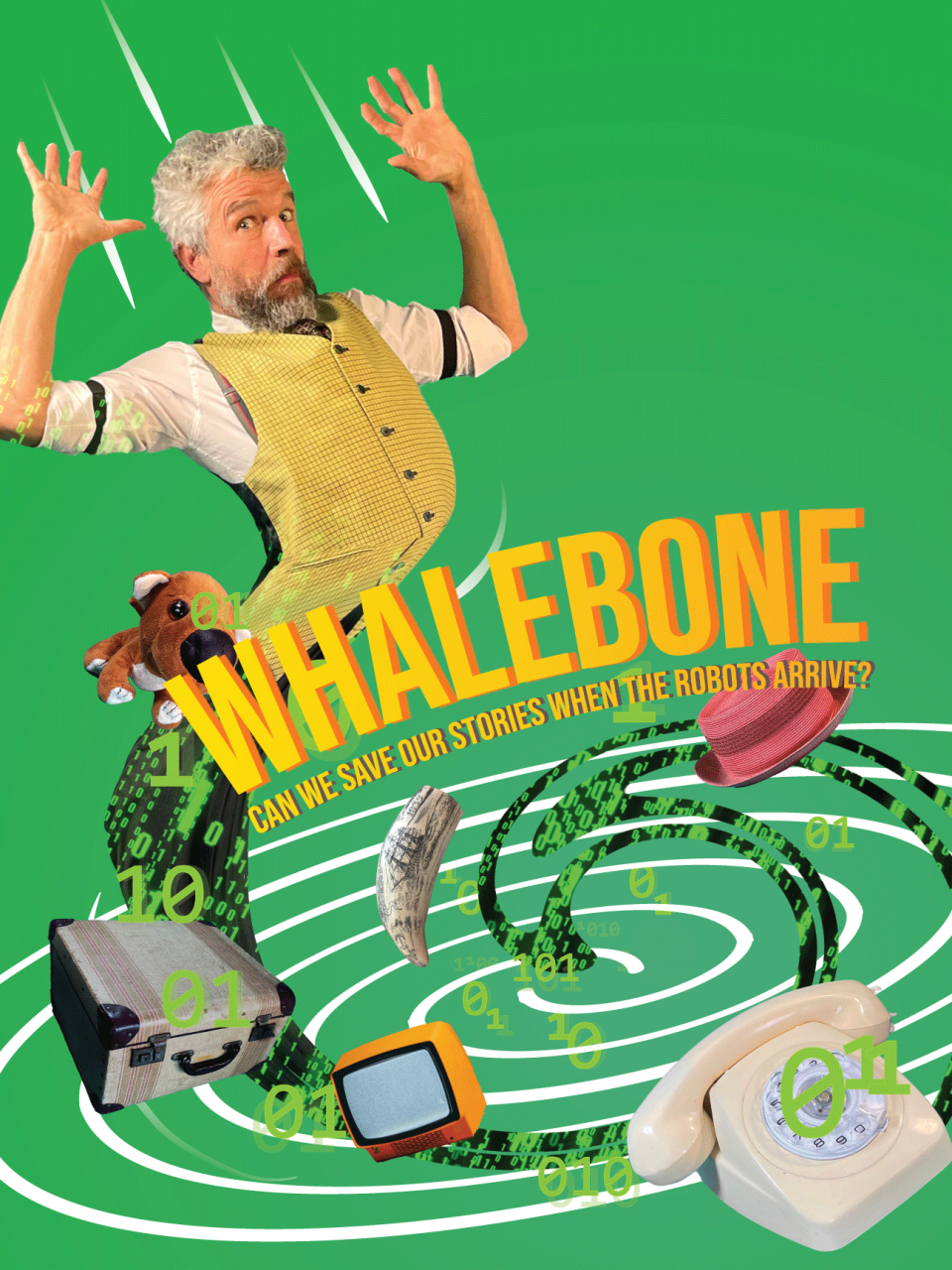 Dates

Monday 03 April 2023 to 

Friday 14 April 2023


(This event has past)
Times
TWO SESSIONS DAILY 10:30am – 11:30am 1:30pm – 2:30pm
Cost
$7 per person
Booking
Bookings have closed.
Age
Recommended for children aged 6–12 years. All ages welcome.
Can we save our stories when the robots arrive? And how can a whalebone help with it?
If you're looking for an engaging, slightly quirky family show during the school holidays, Whalebone is for you!
Set within a place called the 'Depository', Whalebone follows a solitary worker as he tries to safeguard human stories, memories and emotions in a data-driven world where AI and machines are going rogue, and making more and more decisions for us.
Featuring dazzling video and computer animations, flying objects and a pinch of circus, this richly visual theatrical experience takes kids and adults alike on a roller-coaster ride filled with eccentric contraptions, strange machinery and clunky inventions, including the world's first half-human juggling machine!
Perfect for kids aged 6–12 years, Whalebone will inspire the minds of young aspiring inventors, as well as everyone who loves stories, surprises and wonders, and leave audiences pondering what role technology plays in our lives and just what it is that makes us humans human.
Whalebone is performed by Jens Altheimer, the imaginative inventor and comedian who delighted Ipswich audiences with his previous shows Squaring the Wheel and Loose Ends.
The show runs for 60 minutes with no interval and there'll be plenty of audience participation, plus a Q & A after the show with the opportunity to check out all the contraptions!
Watch a preview of Whalebone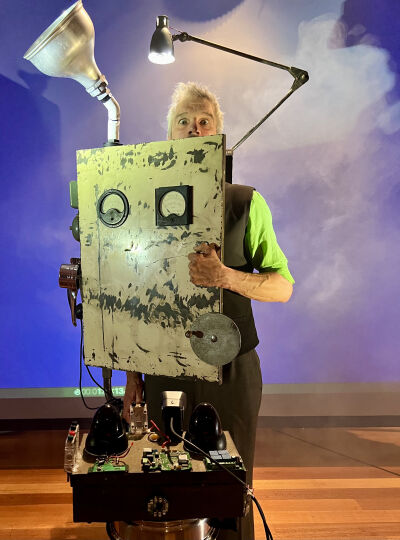 About Jens Altheimer
Jens is a deviser, director, performer, producer, teacher and tinkerer with a strong interest in creating participatory, unusual and empowering art experiences.
Starting his career as a self-taught circus performer, Jens later trained at the Jacques Lecoq International School of Theatre in Paris. He has been working for the last 30 years as an independent artist in Europe and Australia with a body of work that includes family theatre, multidisciplinary community art projects, playful kinetic installations and circus productions.
Jens was the 2013 winner of the Adelaide Fringe Festival award for 'Best Production for Children' for Squaring the Wheel and was nominated for the same award in 2017 for Loose Ends.
"...full of handmade gadgets and contraptions that will leave children in awe" – The Advertiser, 'Loose Ends'

"A comical visual feast which simply has to be seen to be believed" – ArtsHub, 'Squaring the Wheel'
"...an engaging blend of skill and creativity, of energy, emotion and fun" – Brisbanekids, 'Squaring the Wheel'
This event is supported by: